Background And Geographic Scope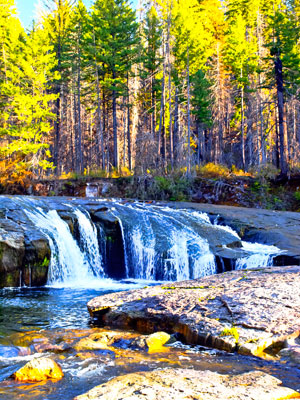 Like many Native American cultures, the Cow Creek Band of the Umpqua Tribe of Indians has a long time-honored tradition of giving to their communities. In 1997 the Tribe formalized this tradition of philanthropy by establishing a grant making Foundation.
The Foundation makes grants to nonprofit 501©3 organizations  for the benefit of the public within Coos, Deschutes, Douglas, Jackson, Josephine, Klamath, and Lane counties.
Primary categories of interest are:
BASIC NEEDS – Food and Emergency Support
ABUSE PREVENTION & INTERVENTION for Children and Adults
EDUCATION – Early childhood education and parent education, Vocational education and job training, After school programs, Positive youth development, and Arts education
HEALTH & WELLNESS
COMMUNITY SUPPORT
Foundation Purpose And Areas Of Interest
The mission of the Cow Creek Umpqua Indian Foundation is to offer assistance in youth education and programs, strengthening the home and family, and in general add to the quality of life for people in the community.
Eligibility Considerations And Requirements
Grants from the Foundation may be made to qualified non-profit tax-exempt charitable organizations in the above named seven counties and to local government bodies within Douglas County (in whose boundaries the Cow Creek Tribal Land is located).
The Foundation prefers not to be the sole source of support, or an on-going source of support for a project. Grants are not made to or for any of the following purposes:
Individuals
Projects of sectarian or religious organizations, or projects that benefit primarily members of religious organizations
Projects seeking to influence elections or legislation
Debt retirement or operational deficits
General fund drives or annual appeals
Organizations without a 501(C)3 tax status designation who are using another non-profit organization as a fiscal or umbrella agent
Based on the beliefs and priorities of the Cow Creek Umpqua Indian Foundation, and the reality of limited resources, the Foundation generally does not provide support for major capital projects (aside from emergency maintenance and repairs), capital equipment costs, sports programs, special events, and one-time programming. While operating funds are certainly considered, the Foundation generally does not provide funding for computers or other equipment considered basic to the costs of doing business (non-staff adaptive technology is considered).
The Cow Creek Umpqua Indian Foundation makes grants up to $15,000. The Foundation prefers to make small grants that will make a real impact on the project or for the sponsoring program. Only one proposal per year will be considered from an organization that has received a Cow Creek Foundation grant for that year, unless the organization is a large multi-program service. A final report must be submitted by all grantees prior to reapplication.
Application Procedures
Review the Cow Creek Umpqua Indian Foundation's purpose and geographical area to determine if your charitable activity is within these guidelines.
Applicants must have received tax exempt status as stated in Section 501(C)3 of the Internal Revenue Code, or the equivalent for public entities. The use of another organization as a fiscal agent for a project is not acceptable.
Review the FAQs page on the Foundation website.
Call foundation staff prior to proceeding. 541.957.8945 or 541.677.5578.
Complete the grant application entirely.
Submit your application using our online application system. The following material will be required in order to submit your application:
a. financial statement from last completed fiscal year
b. current detailed agency budget reflecting income sources and expenditures
c. one page project budget showing projected income sources and expenditures
d. list of officers and board members with their affiliations and phone numbers
e. copy of 501(C)3 tax exemption letter from the IRS
f. organizational brochure if available
Proposals that are not complete in all respects at the time they are submitted will not be considered.
No receipt or acknowledgment of receipt of your grant proposal will be sent to you.
During the grant proposal review process, Foundation staff may contact your organization or persons or organizations who have knowledge of your organization for additional information, if such contact is felt to be necessary and helpful to reviewing your proposal.
When the determination process has been completed, all applicants will be advised as to the outcome of their proposal requests. All decisions are final.
Grant awards are paid upon receipt of the signed agreement. Grantees must submit a final report (unless otherwise specified) on grant activities and expenditures at the end of the grant period, and prior to any further grant applications to the Foundation.
Grant Deadlines
There are two grant application deadlines a year: March 1 and September 1. To be considered, a proposal must be submitted by the deadline date. If the deadline falls on a Saturday, Sunday or holiday, the application may be submitted the following weekday. Proposals sent by mail, fax or e-mail cannot be accepted.
Final grant decisions will be announced approximately 12 – 16 weeks after each deadline. The Foundation cannot expedite a funding decision.
Because the Foundation is continually evolving and refining its processes and priorities, please contact the Foundation annually for new guidelines.